Houston Copper Recycling by Gulf Coast Scrap Metal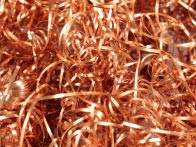 Copper, alloyed with tin, catapulted humanity out of the Stone Age and into the Bronze Age. With its large array of applications, copper can be found in many household and industrial products.
Gulf Coast Scrap Metal, a Houston copper recycling company, pays you more for your copper than any other company in town.
Call us today at 713-868-4111 or visit us at 8770 Hempstead Road at West 11th Street.
Copper Metal Recycling Made Easy
Copper is found in many things, including piping, electronics, car motors and many other common items. Due to its conductive properties, copper is typically found in wires.
Gulf Coast's dedication to customer service means that we offer FREE wire stripping, also free alloy testing, container service, pick-ups, onsite evaluations and quotes.
Houston copper recycling should be quick and simple.
Gulf Coast guarantees...
Prompt payment
Knowledgeable and friendly assistance
Efficient service
Houston's best price for your copper!
While we are experts in copper recycling, we also accept other scrap metal, aluminium, brass, bronze, carbide, iron, nickel, lead, stainless steel and many other alloys.
Make some quick cash by selling your scrap. Call us at 713-868-4111 or visit our recycling facility to learn more about our services and copper metal recycling.